Correction to: Functional exploration of co-expression networks identifies a nexus for modulating protein and citric acid titres in Aspergillus niger submerged culture
Fungal Biology and Biotechnology volume 6, Article number: 26 (2019)
2261 Accesses

1 Citations

1 Altmetric
Prior to publication of the original article [1], the authors provided revised images for Figs. 4, 6 and 7 during the proof-correction stage. These were not processed by the typesetter. The corrected Figs. 4, 6 and 7 are given with this erratum.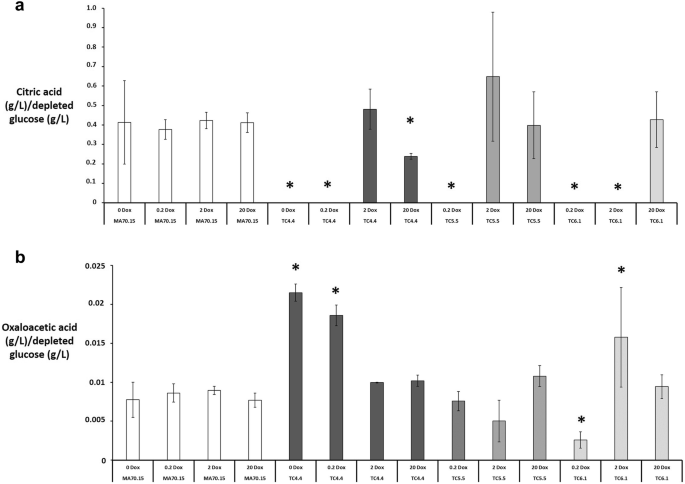 The publishers apologise for this error. The original article has been updated.
Reference
Cairns TC, Feurstein C, Zheng X, Zhang LH, Zheng P, Sun J, Meyer V. Functional exploration of co-expression networks identifies a nexus for modulating protein and citric acid titres in Aspergillus niger submerged culture. Fungal Biol Biotechnol. 2019;6:18. https://doi.org/10.1186/s40694-019-0081-x.
Additional information
Publisher's Note
Springer Nature remains neutral with regard to jurisdictional claims in published maps and institutional affiliations.
Rights and permissions
Open Access This article is distributed under the terms of the Creative Commons Attribution 4.0 International License (http://creativecommons.org/licenses/by/4.0/), which permits unrestricted use, distribution, and reproduction in any medium, provided you give appropriate credit to the original author(s) and the source, provide a link to the Creative Commons license, and indicate if changes were made. The Creative Commons Public Domain Dedication waiver (http://creativecommons.org/publicdomain/zero/1.0/) applies to the data made available in this article, unless otherwise stated.
About this article
Cite this article
Cairns, T.C., Feurstein, C., Zheng, X. et al. Correction to: Functional exploration of co-expression networks identifies a nexus for modulating protein and citric acid titres in Aspergillus niger submerged culture. Fungal Biol Biotechnol 6, 26 (2019). https://doi.org/10.1186/s40694-019-0087-4
Received:

Accepted:

Published:

DOI: https://doi.org/10.1186/s40694-019-0087-4