A silver bullet in a golden age of functional genomics: the impact of Agrobacterium-mediated transformation of fungi
Fungal Biology and Biotechnology
2017
4:6
Received: 3 July 2017
Accepted: 18 September 2017
Published: 26 September 2017
Abstract
The implementation of Agrobacterium tumefaciens as a transformation tool revolutionized approaches to discover and understand gene functions in a large number of fungal species. A. tumefaciens mediated transformation (AtMT) is one of the most transformative technologies for research on fungi developed in the last 20 years, a development arguably only surpassed by the impact of genomics. AtMT has been widely applied in forward genetics, whereby generation of strain libraries using random T-DNA insertional mutagenesis, combined with phenotypic screening, has enabled the genetic basis of many processes to be elucidated. Alternatively, AtMT has been fundamental for reverse genetics, where mutant isolates are generated with targeted gene deletions or disruptions, enabling gene functional roles to be determined. When combined with concomitant advances in genomics, both forward and reverse approaches using AtMT have enabled complex fungal phenotypes to be dissected at the molecular and genetic level. Additionally, in several cases AtMT has paved the way for the development of new species to act as models for specific areas of fungal biology, particularly in plant pathogenic ascomycetes and in a number of basidiomycete species. Despite its impact, the implementation of AtMT has been uneven in the fungi. This review provides insight into the dynamics of expansion of new research tools into a large research community and across multiple organisms. As such, AtMT in the fungi, beyond the demonstrated and continuing power for gene discovery and as a facile transformation tool, provides a model to understand how other technologies that are just being pioneered, e.g. CRISPR/Cas, may play roles in fungi and other eukaryotic species.
Keywords
Functional genomicsMycotaPathogenicity genes Rhizobium radiobacter Transfer DNA
Background
In 1998, Dunn-Coleman and Wang published a commentary on a newly described system for the transformation of foreign DNA into filamentous fungi using Agrobacterium tumefaciens: the catchy term in their article's title was that this method was potentially a "silver bullet" [1]. We think of a "silver bullet" as a missile to combat werewolves or other fantasy monsters, yet here there is an additional metaphor; DNA is shot into a fungal genome to cause damage to a key gene, and thereby that can provide information on the strengths and weaknesses of the fungus. This remarkable use of a plant pathogenic bacterium, A. tumefaciens, to transform fungi had first been demonstrated in the model yeast Saccharomyces cerevisiae just a few years earlier [2, 3], and then extended in 1998 to seven species of filamentous fungi in both the Ascomycota and Basidiomycota lineages [4]. Within a decade from its first reported use in S. cerevisiae, by 2005 over 50 fungal species had been transformed with A. tumefaciens [5]. In the decade since then, the use of A. tumefaciens mediated transformation (AtMT) continued to expand to become a standard experimental technique within the tool-box for gene manipulation in many fungal species. For some species it became the easiest or even the only method by which to introduce foreign DNA. In other species, it emerged as a powerful technique for forward genetics, for use in the creation of large collections of strains carrying random T-DNA insertions and their analysis, for reverse genetics to create specific targeted gene replacements, or for manipulation of gene expression for biotechnological benefits.
In this review we describe the rise and influence of AtMT on the understanding of fundamental aspects of fungi. We describe species or groups of fungi in which AtMT has had greatest impact, some of the limitations that have subsequently emerged in applications, and areas of research or fungal species in which this transformation technology did not have as great an impact. Understanding how this technology was implemented can guide or anticipate the benefits of future technologies for advancing research on fungi.
It is not possible to include specific details from all the publications reporting the use of AtMT on fungi, even if covering those since the review by Michielse et al. [5]. A PubMed search of "Agrobacterium and fungus" returns more than 900 papers, and as an example in the Cryptococcus neoformans species complex alone AtMT has been used in more than 30 studies. Other comprehensive and insightful reviews address specific aspects of this technique, e.g. different vectors that are available [6], or the proteins encoded by A. tumefaciens that are required to transform organisms [7, 8], which this review aims to complement. Finally, "impact" is relative in that what may appear important to one set of researchers may not to another set, while individual people may have personal favorite experiments or discoveries made using the technique.
Agrobacterium tumefaciens and how it transforms species
Agrobacterium tumefaciens is a plant pathogen in the class α-Proteobacterium that is best known as one of nature's natural agents in creating genetically modified organisms. In this process, the bacterium inserts a piece of a plasmid into the nucleus of the plant host cell, and in the wild that bacterial DNA encodes proteins that modify the plant growth in favor of the bacterium. In most circumstances, this results in the formation of a non-proliferative gall or tumor-like growth on a plant, with alterations in the recipient genome that are not normally carried on into subsequent plant generations. However, analysis of the genome of sweet potato indicates that in rare cases these transformation events can be integrated more permanently into the genome [9]. The Agrobacterium genus is within the family Rhizobiaceae and as such it is closely related to the genus Rhizobium, members of which also form intimate associations with plants to fix atmospheric nitrogen. A. tumefaciens was renamed Rhizobium radiobacter [10], although the community using this species as a transformation technology for fungi continues to use the name A. tumefaciens.
Before the development of genome sequencing projects, the only known example of horizontal gene transfer from bacteria to eukaryotes was the trans-conjugation mediated by A. tumefaciens [11]. Agrobacterium naturally exists in an environment where it encounters numerous hosts, including fungi that are likely to be present at the plant wounds, which induce T-DNA transfer. Knight et al. [12] demonstrated that it is entirely feasible that such transformation events happen in a natural environment. They co-cultivated the plant pathogenic fungus Verticillium albo-atrum on plant material alongside an Agrobacterium strain containing a plasmid that could potentially transform fungi, and observed transformation of the fungus under these in planta conditions [12]. Of course, in the wild such an event is unlikely to deliver any beneficial DNA sequence into the fungus, so may well not confer any selectable advantage, but it is interesting to speculate on the frequency of such events over an evolutionary timescale: indeed, in addition to plants [9], genome sequencing projects have identified Agrobacterium-like DNA in the genomes of some fungi such as Aspergillus oryzae [13].
Plant molecular biologists altered wild strains of
A. tumefaciens
to their own advantage. The bacterial strains and genetic material were modified to prevent gall formation, and to establish systems in which DNA for transformation into a plant can be placed between two direct repeats of 25 bp (the left and right borders of the transfer or T-DNA) (Fig.
1
). From the perspective of bacterial genetics, rather than transformation it is more accurate to describe the movement of the T-DNA from the bacterium into the eukaryotic host as a trans-conjugation method of gene transfer, in this case a conjugation mechanism that is capable of occurring across different species. The promiscuous nature of
A. tumefaciens
, to target a wide diversity of hosts, enabled it to be applied to numerous other eukaryotic species, with members of the fungi being the best examples beyond the model plant
Arabidopsis thaliana
[
11
].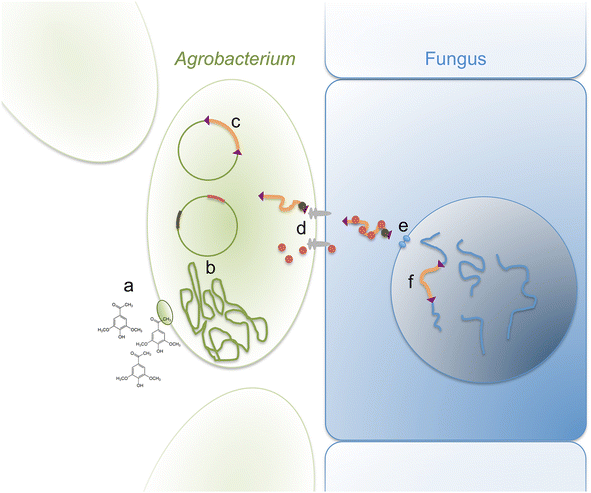 One of the initial downsides of transformation of fungi with Agrobacterium was the perceived inflexibility with the vector systems. Some of the Agrobacterium vectors were rather unwieldy, with limited restriction sites for conventional cloning and, having been developed for plants, were prefabricated with selection cassettes and regulatory elements specifically for plant transformation. Fortunately some of the suites of vectors made for plants (e.g. pGreen, pCambia, etc.) also included small vectors that had empty T-DNA regions that were amenable to easy manipulation. These have been updated to allow vector construction by means such as yeast recombination in S. cerevisiae [14–16], the Gateway system [17] or Golden Gate assembly [18], making vector construction and deployment simple and amenable to high throughput approaches.
Another limit of the early vectors was the length of DNA that could be inserted, which was a significant technical restriction for complementation of large genes. One solution to this problem was the development of the BIBAC system, which enabled the modification of any bacterial artificial chromosome (BAC) containing a large piece of fungal DNA to contain left and right border sequences, thus enabling direct fungal transformation. Large fragments (up to 75 kb) of DNA were successfully transferred into the Fusarium oxysporum f. sp. lycopersici genome using this method [19]. In a similar manner, a system to convert BACs into vectors suitable for AtMT in the Ustilago maydis has also been developed [20].
Advantages of AtMT over other transformation techniques
Transformation tools existed for fungi prior to the development of AtMT, for example using the protoplast/polyethylene glycol or cation/polyethylene glycol approaches [21, 22]. However, AtMT provided improvements over many of these methods, explaining why it became a transformation tool of choice in many fungal species.
Firstly, AtMT eliminates the need to remove the fungal cell wall to make protoplasts. While protoplasting is an established method in some species, in others it is difficult and variable in success. Fungi have a suite of cell wall types that differ between species and that change at different stages during growth and development. These differences likely explain why the ease and success of protoplasting vary between species; this is not helped by the difficulties in obtaining suitable cell wall degrading enzymes. In contrast, although Agrobacterium does show cell type preferences, as discussed later in the section on the mushroom-forming Agaricomycotina, Agrobacterium can transform species across a wide spectrum of evolution, including mammalian cells [23] and oomycetes [24], and many different tissue or cell types in fungi.
A second significant advantage to AtMT over other approaches is that the T-DNA can integrate randomly into the genome. Consequently, much of the impact of AtMT comes from the perspective of random mutagenesis as a resource for forward genetic screens. At the time of development of AtMT, the process of restriction enzyme mediated integration (REMI) was the insertional mutagenesis method of choice. This method includes restriction enzymes in the stage when DNA is transformed into protoplasted cells. A number of problems arose with this method such as mutations not linked to the inserted DNA, which were proposed to be caused by the restriction enzymes causing damage to the DNA. Other insertional mutagenesis tools include transposon insertions, although these usually require the design of specific constructs for each species. AtMT largely superseded REMI as the insertional mutagenesis tool in fungi [5]. Usually the T-DNA inserts as a single copy into the genome, so any change in phenotype is likely caused by the insertion. After screening libraries of T-DNA insertion transformants for phenotypes, either side of the T-DNA insert are then obtained by difference methods, which are most often PCR-based, in order to identify the affected gene. Typically, the function of the genes identified using T-DNA mutagenesis is confirmed through (a) linkage analysis of the progeny obtained from crosses between a strain of opposite mating type and the T-DNA mutant, if the mutation does not affect the sexual cycle; (b) generation of a targeted replacement allele by means of transformation techniques suitable for the studied organism, or (c) complementation with a wild type copy of the gene.
Thirdly, AtMT is amenable for use in reverse genetic approaches for targeted gene deletion or disruption. This differs from random insertional mutagenesis, as transformation vectors are supplemented with DNA sequences that mediate homologous recombination of the exogenous cassette with specific loci of the recipient genome. Thus, AtMT can be used for targeted replacement at desired genomic regions, most obviously a putative open reading frame. AtMT was often developed in conjuncture with the isolation of mutants in the non-homologous end joining DNA repair process [25]. Mutation of this pathway helps increase the proportion of transformants that have gene replacements. Over the past decade, there has been a rapid increase in publicly available genome sequences of fungi [26], which has enabled facile identification of individual genes or gene families that can be analyzed by targeted gene deletion. This has occurred in parallel with development of numerous molecular tools, including inducible promoter systems [27], recyclable markers [25] and most recently CRISPR-Cas genome editing [28]. These techniques now promise functional genomic analyses at a high throughput level, and systems-level insight into industrial tractability, processes essential for disease, and putative drug targets of many fungi [29]. Consequently, targeted manipulation of fungal genomes using AtMT is a critical technique that will facilitate the implementation of more recent breakthroughs.
Finally, having a method for easy transformation "leveled the playing field" for discovering gene function in what had up until then been dominated by the model species for molecular biology experiments. This particularly became the case for non-conventional species as soon as their genome sequence became available. Examples are given later in this review.
Trends in the research of fungi using AtMT
In their 2005 review, Michielse et al. [5] described specific features about AtMT, and then some research trends many that continued over the following decade. A large focus has been on the efficiency of transformation as influenced by co-culture conditions, e.g. bacterial and fungal cell concentrations, temperature, length of co-incubation, and concentration of acetosyringone, which is a plant metabolite released from wounded roots that enhances A. tumefaciens transformation (Fig. 1). The direction of this focus on transformation efficiency relates to the prior challenges in obtaining large numbers of transformants from protoplasts or other methods, and hence the efforts to optimize conditions to maximize the number of transformants obtained per experiment. However, this is not crucial because AtMT is technically easy, and if more transformants are needed they can be obtained just by increasing the number of transformation experiments to be performed. Conversely, it is ideal to generate a library of single T-DNA insertion mutants quickly and unequivocally link the phenotype of interest with the genetic mutation, but little work has addressed if the numbers of transformants obtained correlate with the number of integration events per transformant. There is a tendency for more publications reporting the first use of AtMT in a species, and fewer on the full implementation of the technique for making mutations in genes, or other purposes. Given that the following examples represent only a small proportion of all species successfully transformed using Agrobacterium, there remains a large untapped resource waiting for gene discovery in a wide diversity of fungi.
Fungal species and biological questions in which AtMT made greatest contributions
Application of
At
MT depends on the question being asked, and this versatile tool has suited answering such questions in different fungi. Approaches include individual gene deletion or disruption experiments, analyses of gene classes resulting in several dozen mutant strains, to the generation of large libraries consisting of thousands of strains. Nevertheless, it is notable that some species, or indeed fungal lineages, have more widely adapted
At
MT as a common research tool. The following sections are divided based on the evolution of the fungi (Fig.
2
): examples from Ascomycetes with the focus on the plant pathogens, Basidiomycetes, and a brief section on the earlier, paraphyletic fungal lineages.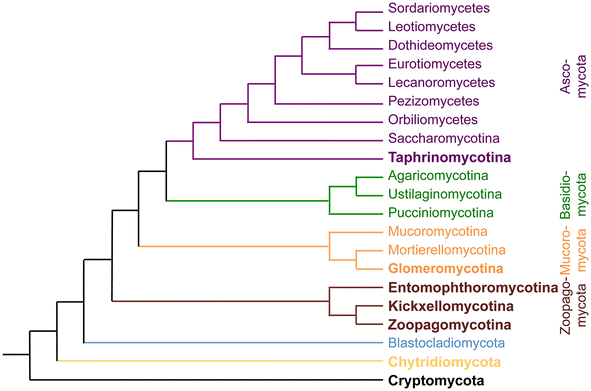 Phylum Ascomycota and the role of AtMT on understanding gene functions in plant pathogenicity
The impact of
At
MT in the ascomycetes has been of greatest relevance to the plant pathogens, with little impact on model species like
S. cerevisiae
,
Neurospora crassa
or
Aspergillus nidulans
wherein a long history of research and efficient methods for transformation, classical genetics, and gene identification were already in place. There are thousands of ascomycete species that infect plants. One way to measure the impact of
At
MT is to examine its role in understanding gene functions in particularly problematic species. In a proposed "top ten" list of plant pathogens (Table
1
, [
30
]), many species benefited from this technique. For those species that did not benefit, this was either because efficient methods for transformation and gene discovery were already available for them (e.g. the basidiomycete
U. maydis
) or because they are obligate pathogens and therefore difficult to co-culture with
Agrobacterium
(e.g.
Puccinia
species,
Blumeria graminis
and
Melampsora lini
). In the diverse species in which
At
MT was adopted, this technology opened the opportunity for high throughput mutant screens or construction of mutant libraries. Thus,
At
MT has been applied to a number of plant pathogenic fungi including many of the economically important pathogens. Although T-DNA integration varies depending on the system,
At
MT has been consistently an efficient tool for the genetic study of fungal pathogenesis. The following sections describe ascomycete plant pathogenic species or genera in which
At
MT has been widely used, and finishes with one human pathogen example.
Table 1
A "top ten" list of fungal plant pathogens for research at the molecular biology level [30], and the impact of AtMT on these species
| Rank | Name | Growth capabilities | AtMT success | Impact | Key references |
| --- | --- | --- | --- | --- | --- |
| 1 | Pyricularia oryzae (Magnaporthe oryzae) | In vitro | Yes | Major | |
| 2 | Botrytis cinerea | In vitro | Yes | Modest | [244] |
| 3 | Puccinia spp. | Obligate pathogen | No | N/A | N/A |
| 4 | Fusarium graminearum | In vitro | Yes | Minor | [65] |
| 5 | Fusarium oxysporum | In vitro | Yes | Major | |
| 6 | Blumeria graminis | Obligate pathogen | No | N/A | N/A |
| 7 | Zymoseptoria tritici (Mycosphaerella graminicola) | In vitro | Yes | Major | |
| 8 | Colletotrichum spp. | In vitro | Yes | Major | |
| 9 | Ustilago maydis | In vitro | Yes | Minor | [198] |
| 10 | Melampsora lini | Obligate pathogen | Yes | Minor | [176] |
Phylum Basidiomycota
Basidiomycetes are distinguished morphologically by their sexual spore formation, produced on the ends of club-shaped cells (basidia) in which meiosis has taken place. The phylum is divided into three major subphyla, the Agaricomycotina, Pucciniomycotina and Ustilaginomycotina (Fig. 2). While some species of basidiomycetes (e.g. U. maydis, Coprinopsis cinerea or C. neoformans) have served as models for aspects of plant pathology, medical mycology, fungal or general biology, compared to ascomycetes relatively less was known about gene functions in the phylum prior to the advent of AtMT.
It was fortuitous that the two main model basidiomycetes that had been preferred for classical Mendelian genetics, the inkcap toadstool C. cinerea (Agaricomycotina) and maize smut U. maydis (Ustilaginomycotina), both proved to be readily amenable to protoplast-based transformation methods. These species provided reliable and reproducible starting material for protoplasting, in the form of asexual ooidia for C. cinerea and yeast-like sporidial growth for U. maydis. Both species gave good yields of transformants, and U. maydis had the additional benefit of having both integrative and autonomous transformation vectors, and a very efficient homologous recombination system allowing easy gene targeting. The early progress achieved in these species encouraged researchers to investigate the tractability of other basidiomycetes, but difficulties were often encountered when attempting to transfer the methods developed in these models to other species. In particular the absence of asexual spores in the majority of species in the Agaricomycotina meant that protoplasting had to be performed on highly variable mycelial cultures, and the obligate pathogens such as the Pucciniomycotina species causing rusts were largely ignored due to the inherent problems in only being able to work with such species in planta.
Fungi outside the Dikarya
The Ascomycetes and Basidiomycetes form a monophyletic lineage in the fungi (Fig. 2), termed the Dikarya due to the presence of two-nucleus cells during the sexual stages of their lifecycle. However, there are at least nine additional lineages that at one point were classified into two groups, the zygomycetes and chytrids, many with limited molecular biology. Given the promiscuity of A. tumefaciens—it can transform plants, fungi, oomycetes and human cells [23, 24]—one application of AtMT that is relatively limited is in the fungal species outside of the Dikarya lineage (Fig. 2).
The Mucoromycota are a large group of species and gene function has been studied through isolation of mutants by chemical mutagenesis screens, and through targeted gene disruption in a few species [204]. AtMT has been applied to a number of these species, and it was first reported in the Mucoromycotina species Rhizopus oryzae [205]. A common limitation is the loss of the transgenes in species such as Backusella lamprospora or Mucor spp. [206–209], which may reflect transient transformation, gene silencing or a foreign DNA surveillance system, or loss over time during passaging of these species that have coenocytic hyphae (without septa) and multinucleate spores. Umbelopsis isabellina is an interesting case, wherein standard A. tumefaciens strains used to transform fungi were compared with a strain of A. rhizogenes, which is another Agrobacterium species able to transform plants [210]. In this case, the latter bacterial species yielded higher numbers of transformants.
To date, the most successful applications of AtMT in a biotechnology capacity have been on the Mortierellomycotina subphylum, in the species Mortierella alpina, which is a source of polyunsaturated fatty acids that may be beneficial for health. Some fatty acids derived from M. alpina are added to infant formula, while others like eicosapentaenoic acid are only otherwise available from fish oil. The initial transformation approaches aimed to modify or increase the fatty acid composition of this fungus [211, 212]. Subsequent studies altered gene expression to change the lipid profiles by overexpressing an ω3-desaturase enzyme or pathways that alter NADPH levels [213–215].
Other than the Mucoromycota, a chytrid species in the Blastocladiomycota, Blastocladiella emersonii, has been reported as transformed using Agrobacterium [216]. The Glomeromycota are obligate symbionts with the roots of plant species, and are challenging to work with for this reason. For instance, use of drugs for selection would likely also impede growth of the host plant. Rhizophagus irregularis (previously Glomus intraradices) has also been subjected to AtMT, using as a selection system the delivery of constructs that express a nuclear-localized GFP [217]. The method was inefficient, hindered by the natural levels of autofluoresence of the fungus, and transformation success could not be confirmed with other approaches.
All that shines is not silver: problems and limitations with the AtMT technique
The previous sections are highlights in which the use of AtMT has led to new and major advances in fungi. However, not all is perfect with the tool, and researchers should consider some of these limitations when designing forward genetic experiments, planning to make targeted gene replacements, or interpreting data from strains generated with AtMT.
Given that generating hundreds or thousands of mutants is a prerequisite for functional genomic studies, several adaptations to the AtMT pipeline have been made to overcome significant experimental limitations and ensure this technique is sufficiently high-throughput. In some instances, technical challenges cannot be obviated. For example, while 96-well high throughput protocols exist for lithium acetate or protoplast-PEG mediated transformation of model yeasts [218], similar experiments in 96-well format are not possible using AtMT. This is likely due to the technical challenges of miniaturising Agrobacterium cultures, which must be sufficiently aerated to reach an optimised growth phase prior to transformation. Nevertheless, much progress has been made in reducing the burden of experimentally intensive cloning for AtMT, which relies on generation of Agrobacterium compatible plasmids. Such cloning is more challenging when compared to lithium acetate or PEG mediated transformation, where linear DNA cassettes can be assembled by simple PCR steps [219]. Investigators have generated Agrobacterium plasmids that are compatible with Gateway® cloning technology from Invitrogen, e.g. enabling ultra-high throughput generation of Z. tritici over-expression strains [220]. Elsewhere, Agrobacterium compatible vector construction using yeast recombination in S. cerevisiae [14–16], or Golden Gate assembly [18], provide comparable improvements in high throughput vector construction. These studies highlight how some important technical challenges have been addressed, and their recent utilization demonstrate AtMT is applicable for high throughput functional genomic analyses of fungi [220]. More generally, they highlight that AtMT is a robust technique that will continue to be essential for analysis of fungi in the "big data" era of fungal functional genomics, as long as AtMT is used taking into consideration both the advantages and the limitations of the technique. Four points to consider are as follows.
First, an ideal insertional mutagenesis protocol should provide the ability to "hit" any and every gene, but T-DNA insertions have non-random integration patterns into fungal genomes. A single gene example of this bias is illustrated by the isolation of T-DNA insertional mutants into the LAC1 gene encoding laccase for melanin biosynthesis in C. neoformans. Five insertions have been isolated within a 1 kb promoter region and none in the 2.8 kb coding region [157, 159, 160] (Fig. 4a). This single gene example is consistent with insertional bias from the analysis of collectively thousands of T-DNA insertion strains in the plant pathogenic ascomycetes (see examples given above, and illustrated from P. oryzae in Fig. 4b). This is perhaps the biggest limitation to the use of AtMT as a tool for creating a library of mutants with insertions in every gene.
Despite this limitation, the skew to insert the T-DNA outside of genes has been recently converted into an advantage for the identification of essential genes [16]. The regulatory sequences for the C. neoformans GAL7 gene were cloned adjacent to the right border, and transformed into the basidiomycete C. neoformans. Transformation and selection was conducted on media containing galactose to ensure any gene near that insertion would be expressed, and then strains tested for growth on glucose, which represses GAL7 expression. Approximately 1% of transformants did not grow on glucose media. Analysis of the positions of the T-DNA insertions in the C. neoformans genome revealed they were in genes with essential functions in ascomycete species.
Second, in ideal cases the T-DNA inserts perfectly from right to left border, the subsequent mutant (or set of mutants) with an interesting phenotype is isolated, followed by rapid identification of the gene of interest. Identification of the deleted or disrupted gene might be achieved by TAIL-PCR, inverse PCR, or some other method. However, this gene identification step can become a bottleneck or even end point for several reasons. The T-DNA may insert in ways which make subsequent mapping challenging, for example following signficiant cassette truncation, insertion of additional plasmid DNA beyond the border sequences, or with multiple copies either inserted in tandem or dispersed throughout the genome. The insertion events can be associated with deletions and chromosomal rearrangements of the genome. The tendency for insertions to fall within intergenic regions can cause issues establishing which of the two genes may be affected by the T-DNA, and sometimes qPCR of both genes can help identifying which one is affected by the insertion. In many cases the assumption is that the insertion will reduce expression of the adjacent genes. However, there are also examples such as from L. maculans in which the insertion event causes an increase in gene expression of adjacent genes [95].
Third, AtMT may not be able to provide valuable insighs compared to other transformation methods in some species. For a number of fungi, AtMT did not enhance our understanding of gene function in fungi. This includes the first fungus transformed using A. tumefaciens, S. cerevisiae [2]. This makes sense given the other transformation techniques available for S. cerevisiae, the ability to use chemical mutagenesis and then clone by complementation, construction and access to sets of strains with all the genes deleted, and other genomic-level resources. Hence, with so many tools to isolate mutants and identify the affected gene, or screening whole genome deletion sets for phenotypes, there was little additional benefit of having AtMT as another tool. As mentioned above, a similar situation exists for the filamentous fungus model N. crassa: although one of the first filamentous species transformed with Agrobacterium [4] the method was not used since that time. A third example is Schizosaccharomyces pombe, a model used to uncover regulators of cell cycle control that was the topic of the 2001 Nobel Prize in Physiology or Medicine; indeed, this species and it seems no member of the Taphrinomycotina have been transformed with this method.
A fourth limitation with AtMT is that transformation with T-DNA will always be insertional, whereas in some fungi, such as U. maydis [221] or with the use of the AMA1 sequence in plasmids for Aspergillus spp. [222], plasmids that replicate autonomously are available. Such plasmids can be rescued back into E. coli, easing the way for cloning by complementation, or for deliberate loss by counter-selection.
The future and further maximizing the impact of AtMT in fungi
AtMT is a tool that is applicable to plant and fungal molecular biology, but the host side of the transformation is little understood. A set of 129 A. thaliana mutants has been identified that are resistant to transformation [223]. However, the fungi surpass all other eukaryotes in terms of the molecular tools and resources available for their study at the genome-wide scale and as such could be ideal hosts to define the eukaryotic side of the host cell–bacterial cell interaction. The process of T-DNA transfer and integration has been recently reviewed [7]. Using fungi as the host could provide insights into ways of improving efficiency of the method and the mechanisms by which the T-DNA is integrated. S. cerevisiae mutants have been used to identify those that have altered efficiency of transformation [224–229], and a discovery of the role of purine concentrations and biosynthesis was then also linked to transformation efficiency in plants [230]. Hence, testing other deletion sets, such as for S. pombe or the ongoing projects for N. crassa or C. neoformans, to find strains recalcitrant to transformation. The rationale for exploring the eukaryotic genes required for transformation in multiple species is because there are clear differences between fungi, e.g. gene replacement using AtMT is not possible in C. neoformans but it is in other basidiomycetes or in S. cerevisiae the influence of purine during transformation on efficiency is dependent on both genes for purine synthesis and the yeast strain [230]. This research direction could have wide impact, if that information could be transferred across to explain why some plant species are difficult to transform with the method. The other side of the transformation interaction is A. tumefaciens itself. There is evidence that different strains of A. tumefaciens behave differently. Few studies have investigated strains side-by-side for bias in insert preference or gene targeting efficiency.
AtMT can be a powerful teaching tool. "It is in human nature to value any novelty, however slight, in one's own possession" [231]. Those who have discovered a new mutant or mutant phenotype will appreciate the insight of Charles Darwin's comment, particularly for engaging students or others at many education levels with science. It is not known how many people have used AtMT as a teaching tool on the philosophy underlying molecular genetics, i.e. the phenotype of a mutant reflects the inverse of its function in the cell. In an undergraduate practical class setting, it is an effective method for demonstrating this principle, as well as exposing students to fundamental aspects of biology. The method has been taught at the Marine Biological Laboratory Molecular Mycology course (Woods Hole, MA, USA) since 2004 where students have performed large-scale mutant screens as part of research projects [166, 173, 232].
Several of the authors of this review have used AtMT as a teaching tool for undergraduates or even high school students, in cases resulting in the students contributing to research publications [89, 159, 193, 233]. For implementing AtMT as a teaching tool, it is wise to select phenotype screens whereby multiple genes can control that particular phenotype to increase the chances of students isolating mutants.
It is essential to make any new method or resources available, such as through the deposition of plasmids or strains. One drawback of the use of A. tumefaciens is that some countries classify laboratory strains of A. tumefaciens as plant pathogens and have import restrictions due to this classification. An invaluable role has been and continues to be played by public repositories, such as the Fungal Genetics Stock Center in the USA. However, lack of funding for such organizations both threatens these and undermines decades of research and limits the potential to perform experiments into the future [234]. In addition to the physical resources, online databases of genomes, T-DNA insertions and phenotypes (Fig. 3) also require ongoing support to avoid the loss of this hard-gained information.
At present, the identification of T-DNA junctions can still be a rate-limiting step. Sequencing a genome can be more cost effective than PCRs or other methods to identify junctions. Indeed, next generation sequencing has been applied for the identification of the mutated genes. In the case of L. maculans, there was difficulty in identifying junctions and four strains were sequenced separately to identify the T-DNA insertion sites [100]. Another approach was used for C. neoformans in which pools of DNA from mutants were sequenced simultaneously, and then the affected genes in the individual strains identified by specific PCRs [168, 232]. In future, incorporating signature tags, bar codes or using asymmetric restriction enzymes will make identification of flanking regions easier with the next-generation sequencing capabilities that are available.
In plants there have been many reports of using co-transformation to introduce multiple T-DNA cassettes at the same time (e.g. [235]); however, this is not a common approach in fungi [236]. Such an approach has the potential to allow AtMT delivery of separate partial selection cassettes, in a similar approach to that used very successfully in the bipartite or split-marker approach to enhancing targeted gene disruption in fungi [219]. Future implementation may further enhance gene targeting abilities in fungi [237, 238].
An exciting tool in biological research is the CRISPR/Cas genome editing systems and likely, as AtMT did in the last 2 decades, this methodology could revolutionize fungal biology. As with AtMT in S. cerevisiae, it is likely that for the well-established fungi CRISPR/Cas will be less ground breaking than for those species with challenges, especially species with low frequencies of targeted gene replacements. It is also worth pointing out that for many fungi AtMT will still be an instrumental tool to transform in the CRISPR/Cas constructs. Another feature of AtMT yet to be exploited in fungi is transient transformation. In plants this has been a routine method for introduction of constructs such as viral infectious clones [239], and given the difficulty currently faced with manipulation of mycoviruses, it is likely that such deployment will occur in the future. There is also interest in exploiting the transient transformation systems for other purposes like CRISPR/Cas that would circumvent the need to have this system integrated into the genome and the potential that causes for off-target mutations. In Ascomycetes this has been achieved by exploiting unstable autonomous vectors delivered by protoplast transformation [240, 241], whilst in U. maydis an unstable autonomous plasmid was successfully deployed into protoplasts to deliver an efficient CRISPR/Cas system [242], but clearly there is also the possibility of exploiting the benefits of AtMT for such cases in the future, potentially by modification of some of the components required for integration of the T-DNA into the fungal genome.
Concluding remarks
In closing, nearly 20 years on we have a chance to answer Dunn-Coleman and Wang's question about AtMT, "a silver bullet for filamentous fungi?" This "silver bullet" conjures a mixture of concepts, ranging from the use of silver against werewolves, Paul Ehrlich's "magische Kugel", or the lesser metal status of silver over gold. The perfect agent to comprehensively determine gene function in fungi, which ultimately provide these species with their remarkable capabilities, is likely elusive. AtMT has, however, achieved many milestones in defining the genetic basic behind numerous and diverse traits, and promises to continue to play an important role for our understanding of fungal biology.
Declarations
Authors' contributions
All authors contributed to writing the manuscript. All authors read and approved the final manuscript.
Acknowledgements
We thank Barbara Howlett for comments and edits on the manuscript.
Competing interests
The authors declare that they have no competing interests.
Availability of data and materials
Not applicable.
Consent for publication
Not applicable.
Ethics approval and consent to participate
Not applicable.
Funding
Research that has used AtMT by the authors has been supported by the following organizations: United States National Institutes of Health (AI094364 AI and GI), Australian Research Council (FT130100146 AI), Procter and Gamble (AI and GI), Australian Grains Research and Development Corporation (UM00050 AI and CEE), Technische Universität Berlin Postdoctoral Research Funding (TCC), and the Biotechnology and Biological Sciences Research Council, UK (D19266 AMB).
Publisher's Note
Springer Nature remains neutral with regard to jurisdictional claims in published maps and institutional affiliations.
Open AccessThis article is distributed under the terms of the Creative Commons Attribution 4.0 International License (http://creativecommons.org/licenses/by/4.0/), which permits unrestricted use, distribution, and reproduction in any medium, provided you give appropriate credit to the original author(s) and the source, provide a link to the Creative Commons license, and indicate if changes were made. The Creative Commons Public Domain Dedication waiver (http://creativecommons.org/publicdomain/zero/1.0/) applies to the data made available in this article, unless otherwise stated.
Authors' Affiliations
(1)
School of BioSciences, University of Melbourne, Melbourne, Australia
(2)
School of Biological Sciences, University of Bristol, Bristol, UK
(3)
Department of Applied and Molecular Microbiology, Technische Universität Berlin, Berlin, Germany
(4)
Department of Molecular Genetics and Microbiology, Duke University Medical Center, Durham, USA
(5)
College of Life and Applied Sciences, Yeungnam University, Gyeongsan, South Korea